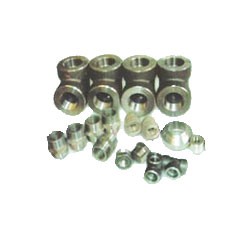 We have developed precision engineered quality proven forged fittings with technical skills of our engineers and support from our quality suppliers who has always risen above expectation of our needs in satisfying our clients. We have been successful in delivering quality forged fittings having high tensile strength, and temperature bearing capacity. Using quality specified grade material, our range of forged fittings finds wide application in all 365 days running industries.
Range ability: 15 NB to 100 NB in 3000 LBS, 6000 LBS, 9000 LBS, Class
Types :
Elbows 45 deg, 90 deg.
Unions / Bushing / Adapter.
Caps & crosses. / Plugs.
Equal Tee / Reducing tee.
Range : 录鈥?(6 Mm) NB To 4鈥?(100 Mm) NB
Rating : Class # 1000, 2000, 3000, 6000
Dimensions : ANSI B16.11, Mss-Sp79, Bs3799, Din-2950, En-10241, En-10242
Stainless Steel : ASTM A 182 F 304, F 304L, F 304h, F 309, F 309 S, 309H, F 310, F310S, F310H, F 316, F 316l, F 316H, F 316LN, F 317, F 317l, F 321, F 321H, F 347, F 347H, F348, F348H etc
Carbon Steel : ASTM A 105, ASTM A 350 Lf2, ASTM A 181
Alloy Steel : ASTM A 182 F1, F2, F5, F9, F11, F12, F22, F91