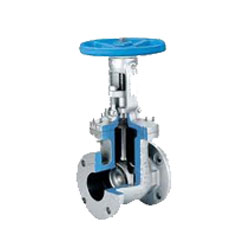 Gate Valves offered by us are also known as Slide or Knife Valves. Named after wedge-shaped internal plastic barrier, these linear motion valves feature flat closure element that slides into flow stream to provide shut off. Further, these Gate valves are designed to minimize pressure drop across valve in fully opened position and stop flow of fluid completely.
Features :
Effectively regulate flow rates from zero to full flow
Work well with solids-laden water
Work well in applications involving slurries as 'gates' can cut through slurry
These indutrial valves are also advantageous in applications that involve viscous liquids like heavy oils, varnish and molasses.